Are you a hands-on person? Don't want to be stuck behind a desk all day? Then a trade might be the job for you! You'll enjoy being physically active and have good practical and problem-solving skills.
In naval shipbuilding, tradespeople are at the forefront of creating, building, installing and repairing all things big and small – from circuit boards to huge naval ships!
The great news is that Australia's Naval Shipbuilding Industry requires a huge number of skilled tradespeople to help design, build and maintain the Navy's ships and submarines.
In naval shipbuilding, tradespeople are right in the thick of it – and Australia's shipyards are some of the most advanced in the world, so you'll be working with a range of high-tech machinery to get the job done.
Across the naval shipbuilding enterprise, there are many different trades needed, meaning there is something out there for everyone!
Tradespeople are critical to shipbuilding – they do everything from constructing a vessel's hull through to manufacturing and installing the electrical and piping components within the ships and submarines.
Am I suited to becoming a tradesperson?
Tradespeople enjoy understanding how things tick and applying their practical skills and know-how. For example, you might enjoy:
Fixing broken items
Using power tools and other machines
Creating new contraptions at school
Working on cars and engines
Solving problems on the fly
Building Lego or other items 
Where can I work as a tradesperson?
All the major companies involved in Australia's Naval Shipbuilding Industry (including BAE Systems Australia – Maritime and ASC Pty Ltd) need tradespeople. The smaller companies, which supply goods and services to the bigger businesses – also need thousands of tradespeople for their work.
Read about Isabella Veritay-Richards who secured a boilermaker apprenticeship with BAE Systems Australia – Maritime while still in school.
How do I become a tradesperson?
To become qualified, you'll need to undertake an apprenticeship. The great thing about apprenticeships is you get paid to learn!
There are many opportunities to move up and progress in your career as a tradesperson. The job you start in might not be where you end up.
This infographic explains some of the different pathways you can take to become a tradesperson in Australia's Naval Shipbuilding Industry: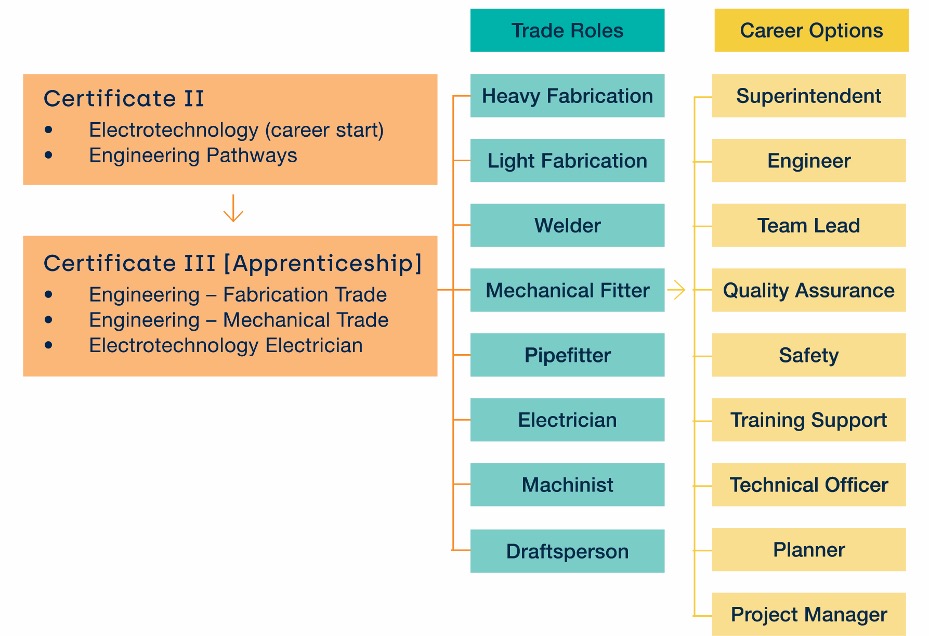 Jobs in high demand
Boilermaker (Heavy Fabrication Tradespeople)
Working in purpose-built shipyards and using a variety of welding and fabrication technologies, Heavy Fabrication Tradespeople perform high-quality cutting, shaping and bending of metal plates to assemble the components that form the body of a vessel, including hulls, bulkheads and pipe spools.
Sheet Metal Worker (Light Fabrication Tradespeople)
Light Fabrication Tradespeople use specialised equipment to cut, form, shape and weld thin sheets of metal into ducting and ventilation systems and fuse boxes. They also install and assemble these components within a vessel.
Welder
Welders specialise in assembling components and metal structures with great precision through heavy metal, light metal and pressure welding processes (including TIG, MIG and manual metal arc welding).
Mechanical Fitter
Mechanical Fitters use tools and engineering techniques to fit, fabricate, repair and assemble the machinery and systems that a vessel requires to operate effectively. These critical systems might include freshwater systems, seawater systems, fuel and oil systems and compressed air systems.
Pipefitter
Pipefitters perform some of the most precise work in the shipbuilding industry. They work on all phases of shipbuilding to install complex piping systems. Pipefitters are trained in the fundamental skills and techniques of piping fabrication, installation, inspection and testing.
Electrician
Electricians are responsible for installing, repairing, replacing and maintaining wiring and control systems on board naval vessels, as well as identifying, testing and resolving electrical issues. They apply knowledge and skills in all areas of a vessel — from power generation and distribution systems to lighting equipment, machinery control panels and data and communications networks.
Visit the NSC website to learn more about these roles.
NSC can help you start your trades career!
Keen to know where to start or just want to learn a little more? Have a chat with one of our consultants who can help work through your skills and interests to create your career pathway.
Students can register for a free chat today through NSC's Workforce Register or through NSC's Contact Us page.